ISO 17025 CERTIFIED, INDEPENDENT AND AT THE CUTTING EDGE OF INNOVATION.
For more than 10 years, ELIOSYS has been the only Belgian test laboratory to be ISO 17025 accredited for testing photovoltaic modules (IEC 61215, IEC 61730, IEC 61915 and IEC 62804 standards – BELAC 432 test). ELIOSYS performs tests in its own laboratory, can even issue statement of conformity up to the ELIOCERT certification.

---
We carry out tests according to international standards or using custom methods.
In addition to renewable energies, we are highly active in areas such as construction, defence and power electronics through actinic tests (solar) as well as aging tests, operational tests in different environmental conditioning of temperature and/or relative humidity (standard MIL STD 810, etc.).
Our test benches, developed in-house, are made available to our customers, making it possible to recreate many climatic and environmental constraints (sun, temperature, humidity, wind, shock, hail, etc.). Thanks to its equipments, most of which are globally unique, the laboratory can test the performance, durability and safety of multiple products.
These innovations, combined with the high level of know-how of its teams, make the ELIOSYS laboratory an international benchmark.
Photovoltaic modules
The laboratory performs various types of services in the photovoltaic field:
bankability techniques for large projects or high-volume purchases.
Photovoltaic plant
The laboratory provides services:
Other types of renewable energy
The laboratory also carries out measurements or tests of:
Actinic and climatic tests
The laboratory performs tests on all types of products to verify their compliance under:

---
Our laboratory specialises in the field of solar photovoltaic, for which it has ISO 17025 accreditation for PV standards: IEC 61215, IEC 61730 IEC 62915 and IEC 62804 (BELAC 432-TEST).
In this area, the laboratory performs all the test sequences required by those IEC standards.
The success of these tests leads to the publication of a report with a statement of conformity. ELIOSYS then issues an ELIOCERT certificate.
In case of modification of one or more components of the PV module, a "certification extension" is required and mandatory. The extension of a certificate is made according IEC TS 62915 standard and will consist in performing one or more test sequences from IEC 61215 and IEC 61730.
In order to ensure the continuity of the certified products quality, ELIOSYS carries out Factory Inspections
ELIOSYS also offers a three-level quality label, ELIOQUAL, which guarantees the continuity of the quality of imported photovoltaic modules. This label is based on statistical controls of imported batches (container, etc.).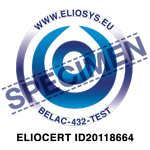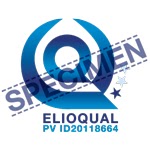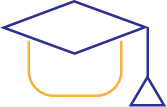 The laboratory regularly organises training in the field of renewable energies. The training courses for photovoltaics take place partly in the laboratory, thus making it possible to illustrate the theoretical principles in practice. These specialised training courses are dedicated to installers, project managers, manufacturers of PVs products or R&D researchers.